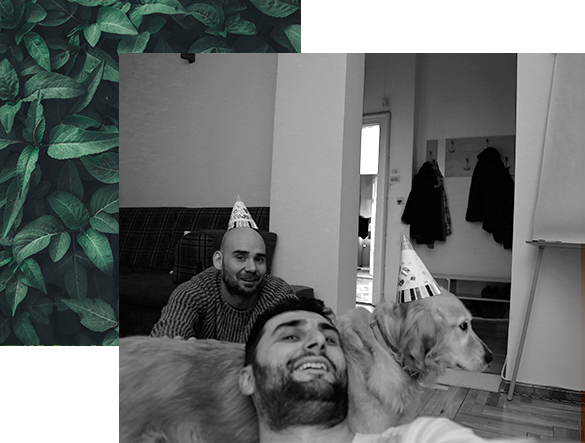 About us
The Hub was established in 2018 as one of the projects of DaFED, a non-profit organisation devoted to networking and organising educational events for IT community.
Optical Internet x2
& Awesome Wifi
Downtown location
Accessible 24/7
Coffee, tea and mineral water
Access to the community network
Hubitat is a co-working space defined by people.
Wearing a pajama and flip flops, singing in the shower? Or even drinking Kristina's cocktail on the terrace and dreaming about working in Bali? Why not. We love to feel like home.
Our co-workers can do any activities that make them happy, as long as they're not distracting others. We spend many hours stuck in the offices, we need to feel comfortable.
We love to eat delicious food. We love comfort food and various types of cheese. The co-workers who have strong cooking skills are occasionally making a feast for everyone.
Some traditional meals such as pasulj, sarma, gibanica are often served. Most of the co-workers are meat lovers but we are open-minded and veg-friendly, phew! There is always one more tasty vegetarian meal.
Prices
Membership plans
The first trial day of co-working is free. For more information about the capacity, feel free to drop us a message.
Virtual office
You can register your office and visit us for a coffee whenever you like. We'll take care of your post.
Contact us
Hot-desk
You can pick an open seat in a shared open office environment. Just bring your laptop, make the coffee in our kitchen and get to work.
Contact us
Dedicated desk
You'll get your own personal desk where you can put your computer and other facilities. Feel free to add your personal touch.
Contact us
For me as a freelancer it is a great place to work in. I can easily get my job done there, hang up with other members.